Christmas in July


July 30th from 10:00 to 4:00

There will be demo's going on all day.

We are debuting our Christmas kits @
10%off for tomorrow only.

A new Christmas Sampler is being introduced, it's a
monthly pick up. This will fill up fast,
so come get your name on the list.

Giveaways, Sales, Snacks & So much FUN!!!






---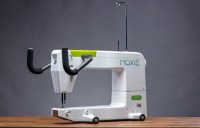 We are so fortunate, we now have a Moxie in our store.
It is just like Christmas!

Come, see, & play on the new machine.

You will want to see our special deal for our HQ machines.







Much love,
A Crafted Cottage