Hello Friends!!
We hope everyone had the best summer, we sure did!
We have gotten in SO much beautiful fabric, (Christmas, Halloween, Neutrals, and more!). With all of this gorgeousness filling our little space, you know what that means.
We need to make more room with a...




A POP UP SALE: 9/13/22 from 10 - 5
ONE DAY ONLY

PLUS if you haven't seen our fb videos, you should know that we are now doing a "pick of the month". This is when a special customer gets to choose our monthly 20% off item.
This month all
In-stock Aurifil is 20% off till the end of the September.
_________________________________________________________________

Free Handi Quilter Event!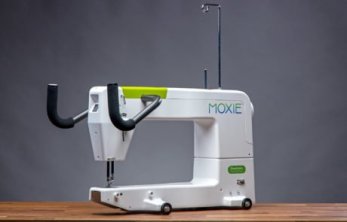 Which Longarm is right for you?
With so many longarms out there, it can be daunting understanding the differences. We will answer these questions and more. There will be treats, and everyone that wishes will get to touch and play on our Moxie and Forte w/ pro-stitcher.

WHEN: 9/24/22 from 9 am to 10:30 am

YOU MUST RSVP (we want to have a chair for you)
*Handi Quilter discounts will be available that day
_______________________________________________________________

IMPORTANT ANNOUNCEMENT:

Handi Quilter prices are increasing on 10/1/2023.
Get your longarm now.
Plus any supplies you may need.
______________________________________________________________________

Upcoming Classes
*with more to come

Twist & Shout - beginner class - Cost $200




September 28th - October 19th from 12:30 - 2:30
This class is every Wednesday for 4 sessions. Bring your sewing supplies.
Price includes instruction, pattern and all fabric needed to make the top.
Size 60x60
ONLY one spot left. *next one starts January 11, 2023



Gnome Table Runner Applique - Technique class - Cost $59




October 19 from 10 - 12
Bring your sewing supplies
Price includes instruction, pattern and all fabric needed to make the top.
Size: 16x38



Quilt Smart Double Wedding Ring - no curved seams - Cost $55

Using the technique taught in this class, you will have a finished product that was much easier to put together than the traditional way. But just as gorgeous!




November 2nd from 10 - 12
Bring your sewing supplies.
Price includes instruction, pattern, interfacing and all fabric needed to make the table runner.
This is an advanced beginner class that requires knowledge of applique, and for you to be able to pre-cut your kit before class.
Runner size: 23x46

IMPORTANT DATE REMINDER
If you have a quilt that you need quilted by December 17, you must have it in to us before October 1st. Otherwise, in order to get it before Christmas, there will be a $75 rush fee. Happy Quilting and see you soon!


ONE YEAR ANNIVERSARY
SUNDAY BASH




Look how far we have come, it amazes me everyday. I can't thank you enough for all of your support this year. To Celebrate this journey we have been on together, we are throwing a Sunday Bash!

Sunday, November 13 from 11 - 3

Giveaways, Sales, Snacks & So much FUN!!!









Finally, just a reminder:

Frank Tucker, our sewing machine repair technician, comes to the shop each Wednesday for sewing machine pick-up and drop-off. If you want to show your machine some "tune-up" love, or it needs repairing, drop it off at the shop by end of day Tuesday, and barring anything extreme is wrong with it, you can pick it back up the following Thursday. His prices are as follows:
Mechanical Machines - $90Computerized Machines - $100Sergers - $115Small Embroidery Machines - $140Large Embroidery Machines - $160

He accepts cash or check only, so please be prepared for that upon pick-up.






We can't wait to see you at our new, classes, and events.

Much love, A Crafted Cottage